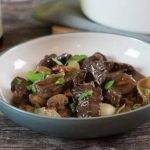 Print Recipe
Boeuf bourguignon
Burgundy beef stew with red wine, beef bourguignon / boeuf bourguignon / beef burgundy / boeuf à la Bourguignonne, is a classic French dish famous in France and even the world. It can be known from the dish name that it originated in the Burgundy region of eastern France. The region's very famous product, red wine and beef (the Burgundy region is known for its high-quality French cattle Charolais and vineyards), are the two main ingredients of this dish.
Ingredients
700

g

Chuck steak

165

g

Lardon/bacon

100

g

Chestnut mushroom

150

g

Pearl onion

2

tbsp

Olive oil

1

1

Onion

1

tbsp

Flour

1

tbsp

Tomato paste

400

ml

Red Burgundy (other red wine)

200

ml

Beef stock

2

clove

Garlic

2

sprig

Fresh thyme

2

1

Bay leaf

1

small bunch

Parsley

to taste

Salt and pepper
Instructions
Cut the beef into 3-5 cm cubes, pat dry with kitchen towel and season with salt and pepper, set aside to use later; Peel and cut the onion into thin slices, set aside to use later; Dissolve the beef stock in boiling water to use later; Clean the mushrooms and dry with kitchen towel; Tie the herbs into a bouquet garni with a string to use later.

Heat a large casserole pan and add 1 tbsp oil. Fry the seasoned beef until golden brown, about 3-5 mins, then turn over and fry the other side until the meat is browned all over, adding more fat if necessary. Do this in 2-3 batches, transferring the meat to a plate when browned.

Add in to the casserole dish the sliced onion and brown – add some oil if needed. Add in the chopped garlic and soften for a couple of minutes. Add the tomato puree. Return the browned meat to the pan and sprinkle in the flour and stir to soak up the juices. Pour in the Burgundy wine gradually, stirring all the time. Add in the beef stock. Add the herbs and seasoning.

Put the lid on and simmer very gently for about 2 hours. Stir occasionally and check there is enough liquid.

In a separate pan, fry the bacon in a little oil, then add the pearl onions (or halved shallots) and mushrooms, until lightly browned.

After about 2 hours gentle cooking, add the bacon, pearl onions and mushrooms to the casserole dish and put the lid back on and cook gently for a further hour.

Remove the herbs and when serving, sprinkle some parsley over the top.

Let us know if you have any question!
Nutrition
Calories:
834
kcal
|
Carbohydrates:
17
g
|
Protein:
48
g
|
Fat:
55
g
|
Saturated Fat:
19
g
|
Polyunsaturated Fat:
2
g
|
Monounsaturated Fat:
8
g
|
Cholesterol:
161
mg
|
Sodium:
1285
mg
|
Potassium:
665
mg
|
Fiber:
1
g
|
Sugar:
3
g