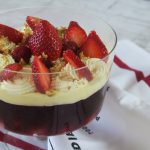 Print Recipe
Trifle
Trifle comes from French Trufle , Which literally means trivial things or trivial things, should be alluding to the method of making this dessert-a dessert made by layering a variety of ingredients. Trifle generally includes: sponge cake with sweet wine such as sherry Or finger cakes, fresh fruit, jelly, custard sauce, whipped cream, the top is usually decorated with fresh fruit.
Ingredients
Jelly
375

g

Fresh or frozen mixed fruit

100

g

caster sugar

7

g

gelatine sheet/gelatine powder

or 5 sheets
Custard
150

ml

milk

150

ml

double cream

1

tsp

vanilla pod/vanilla extract

3

egg yolk

1 1/2

tbsp

caster sugar

1/2

tbsp

cornflour
Other ingredients
lady fingers/sponge cake

Depends on the size of the container (enough to cover the bottom of the container)

50

ml

sherry

300

ml

double cream

1

crushed biscuit

For final decoration
Instructions
Make the jelly:

Put fruit in a pan and heat with 100g sugar and 500ml water and simmer; Cook for 2 mins and then scoop out 3 tbsp of fruit and 75 ml juice; Carry on cooking the fruit in the pan for 5 mins;Blend the cooked fruit with a hand blender or mash and pass through a sieve into a larger bowl;Add gelatine to the hot fruit syrup and stir to dissolve.

Make the custard:

Make the custard according to the recipe and let it cool.

Separate the eggs, placing the yolks in a large bowl; add the sugar to the egg yolks and flour and whisk until pale and thick. Put the cream and milk into a medium saucepan. If using a vanilla pod, cut the vanilla pod open lengthways and scrape out the seeds with the back of a knife, then add to the milk and cream. Heat up the milk and cream mixture to just below boiling point;Pour the milk mixture into a pouring jar; Slowly pour the hot cream and milk onto the eggs and sugar, whisk as you go. Transfer the custard to a clean pan (and add vanilla extract if using). Over a very low heat, stir the custard constantly with a wooden spoon until it gets thicker. This process might take up to 10 minutes.

Trifle assemble the trifle:

Line the bottom of the dish with the cake or trifle sponges; Cover the trifle fingers or cake with the reserved fruit and juices and sherry and some fresh fruit;Pour over the jelly before just before it is set and cool; When the jelly has set pour over the cool custard; Cool and leave to set the add whipped cream and amaretti biscuits crumbled over the top and add fresh fruit.
Nutrition
Calories:
479
kcal
|
Carbohydrates:
46
g
|
Protein:
6
g
|
Fat:
31
g
|
Saturated Fat:
18
g
|
Polyunsaturated Fat:
1
g
|
Monounsaturated Fat:
9
g
|
Cholesterol:
215
mg
|
Sodium:
99
mg
|
Potassium:
200
mg
|
Fiber:
1
g
|
Sugar:
30
g