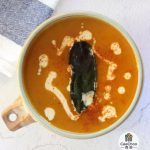 Print Recipe
Pumpkin soup
A seasonal and warm pumpkin soup
Ingredients
25

g

Butter

10

ml

Olive oil

2

g

Sage leaves

chopped

4

whole

Sage leaves

whole

1

small

Onion

approx 50g

1

stalk

Celery

approx 30g

½

Leek ( chopped)

approx 20g

½

Pumpkin

approx 600g

3-4

sprigs

Rosemary

500

ml

Chicken stock

15

g

Ginger

1

clove

Garlic

1

pinch

Ground nutmeg

to taste

Salt and pepper

to taste

Double Cream

to taste

Cayenne pepper
Instructions
Preparation:
Preheated oven 170C (with fan oven) / 190 C (traditional oven without fan).

After peeling the pumpkin and cutting it in half, use a spoon to dig out the seeds and cut into slices; peel the onion and cut into small pieces; peel the celery and wash and cut into small pieces; peel the carrot and cut into small pieces; wash the green onion and cut into pieces; Peel and dice ginger; peel and dice garlic.

Put pumpkin on a baking sheet, drizzle with olive oil, add rosemary, season with salt and black pepper and bake in the oven for 40 minutes until brown. Use a spoon to dig out the pumpkin flesh and set aside.

On a medium-low heat, add the butter to a deep saucepan. When the butter is melted and foaming, add the onion, celery, carrot and shallot and saute (about 10 minutes).

Add nutmeg powder, chopped sage, garlic, ginger, stir-fry for a few minutes, then add pumpkin and saute.

Pour in the stock and bring it to a boil, then simmer for about 40 minutes until the vegetables are completely soft.

Blend with a stick blender until smooth. Sieve for a smoother and finer texture.

Pour the sieved soup back into the soup pot, add appropriate amount of water / stock to adjust the consistency as appropriate. Try again after boiling and season with appropriate amount of salt and black pepper.

Put a small amount of oil in a frying pan. After the oil is hot, add sage leaves to make crispy. Soak up the oil with kitchen paper and set aside.

After serving, drizzle a small amount of cream and add chilli powder according to personal preference. Decorate with crisp sage and enjoy.
Nutrition
Calories:
131
kcal
|
Carbohydrates:
14
g
|
Protein:
3
g
|
Fat:
8
g
|
Saturated Fat:
4
g
|
Polyunsaturated Fat:
1
g
|
Monounsaturated Fat:
3
g
|
Cholesterol:
13
mg
|
Sodium:
431
mg
|
Potassium:
604
mg
|
Fiber:
2
g
|
Sugar:
3
g