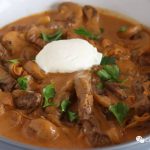 Print Recipe
Beef Stroganoff
Ingredients
250-300 g

Beef fillet

15

g

Butter

1

Onion

2

clove

Garlic

1

Tomato puree

1

tsp

Hot paprika

125

g

Button mushroom

½

tbsp

Dijon mustard

200

ml

Beef stock

½

tbsp

Vegetable oil

100

ml

Sour cream / creme fraiche

to taste

Lemon juice

to taste

Sea salt & Black pepper
Instructions
Cut the beef fillet into strips of 0.5 to 1 cm thick. Season with salt and black pepper. After mixing well, set aside.

Preheat a large pan and add vegetable oil.

Add the beef strips in batches when the oil is hot enough to smoke. Fry until the surface forms a light brown scorched layer and cook it to your desired doneness (I cook for about 1 minute). Keep turning during the period. Take it out and set aside.

Note:

1. Add beef strips in batches to better form a browned layer. If you put too much at once, it is not easy to fry the beef because it forms too much moisture.

2. The constant turning during the period is to better control the doneness of the beef strips and prevent the beef from being overcooked due to excessive heat.

Turn on medium to low heat and add butter to the same frying pan as used for the beef (without cleaning).

After the butter has melted and foamed, add the onion and fry until it becomes soft and transparent. Add mushrooms and stir-fry. Add garlic and fry for about one minute. Add red pepper powder and tomato paste and fry for another minute.

Add mustard and stir well. Add stock and gravy (juice from cow wicker to rest) and mix well.Bring to medium heat and simmer until the amount of liquid is halved. Reduce heat, add sour cream and mix well.

Add beef strips, mix well and reheat beef strips gently.

Taste it, add salt and black pepper to taste. If you feel that the sauce is too rich, squeeze in an appropriate amount of lemon juice. Serve on a plate and serve with wide noodles or rice.

ENJOY!