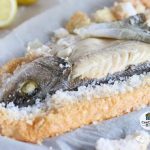 Print Recipe
Salt-Crusted Sea Bass
Ingredients
1 (300~400 g)

Seabass

½

Fennel bulb

2

Bay leaf

1

tbsp

Olive oil

2-3

Lemon slice
For Salt :
700

g

Coarse sea salt

2

Egg white

1

Lemon zest

1

sprig

Rosemary
Instructions
Remove internal organs and scales from fish.The fins can be cut off, in order not to damage the fish skin, it is recommended not to cut to the fish skin and keep a little fins. Wash with paper towels and absorb moisture, and set aside.

Cut off the head and tail of the fennel head, wash it and cut into strips or rings like me.

Put the salt in a large bowl and set aside; slice the lemon and cut into thin slices and set aside; set the rosemary leaves and chop them for later use.

Preheat oven to 180C (fan oven) / 200C (conventional oven).

Put the egg white into a large bowl, add 2 to 3 drops of lemon juice, and beat with an eggbeater until the soft peaks, that is, lift the eggbeater and pull out long peaks but quickly collapse, like this:

Gently mix the egg white with coarse salt. The final texture should be a thick "wet sand".

Add crushed rosemary and lemon zest and mix well.

Take a baking dish and make sure it can lay the fish flat and can be placed in the oven. Line a baking sheet with baking paper (you can rub a little oil on the bottom of the baking sheet to better hold the baking paper). Spread a layer of the egg white/salt paste on it, about 1 cm thick and slightly larger than the fish.

Add sea bass and stuff lemon slices, fennel and bay leaves in the belly. Brush the fish skin evenly with an oiled brush.

Cover fish with the egg white/salt mix ensuring there are no holes.

Bake in the oven for 25 minutes until the salt crust turns golden brown. If you are not sure, you can use the temperature probe to insert the thickest part of the fish, and it will be ok if it shows about 62C.

Remove and let stand for 10 minutes. The fish will remain in the "continue cooking" state during standing, which means that the temperature will increase after standing. With a knife cut a circle around the fish. With luck the salt crust will come off in a single piece.

or, like me, you might need to remove in small chunks. Remember to clean away the salt chunks before serving.

After removing the upper layer of salt skin, gently remove the whole sea bass and wipe off the surface salt. For this tender and juicy seabass, you can choose to enjoy the whole one, or you can remove the bones and fillets and add other dishes.. According to personal preference, you can tear off or keep the skin. By the way, served with Aioli is a good Mediterranean classic.

ENJOY!