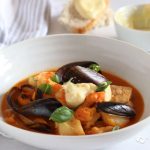 Print Recipe
Bouillabaisse
Ingredients
1

tbsp

Olive oil

1

Small onion

½

Fennel

10

g

Tarragon

1

clove

Garlic

1

tbsp

Tomato puree

50

ml

White wine

400

ml

Fish stock

3

Tomato

Pinch

Saffron

1

bunch

Basil

½

Orange

200

g

Mussels

150

g

Cod

1 (80g)

fillet

Sea bass

75

g

Prawn

To taste

Salt & pepper
For Rouille:
1

clove

Garlic

⅛

tsp

Saffron power

150

ml

Extra virgin olive oil

25

g

White bread

¼

tsp

Sweet paprika

¼

tsp

Cayenne pepper

½

tsp

Coarse salt

50

ml

Hot water

1

Egg yolk
Instructions
Prepare Ingredients:

Peel and mince garlic;

Separate basil stems and leaves; leaves are chopped (you can leave a few slices for serving) 

Peel and juice orange;

Peel fresh tomatoes and cut into small pieces. I first cut the cross on the bottom, and soak it in hot water for about a minute. It 's easier to peel.

Peel and chop the onion. If there is a blender, it is best to use a blender; fennel - remove the hard outer layer and chop. If there is a mixer, it is best to use a mixer to chop.

Mussels: clean the shells and remove the beard (if any); cut the cod into pieces; peel and cut the seabass fillets;remove the shells of fresh shrimp and pick out the shrimp gut.

To make the soup base: Add olive oil to a deep saucepan. After the oil is hot, add onion and fennel and fry for about 10 minutes until softened. Add garlic and tomato paste and fry for about 30 seconds.

Add white wine, fresh tomatoes, tarragon, saffron, basil (stems and leaves), orange peel and stock. After boiling, reduce heat and cover with a lid and cook slowly for 30 minutes.

At the same time, you can start making Rouille: peel the garlic and cut into small pieces. Put the salt in a mortar and grind it to a smooth paste: Coarse salt increases friction and makes garlic easier to grind.

Add hot water to soak the bread for 10 minutes, and stir from time to time until the bread becomes soft and muddy. Dry excess water with your hands and set aside.

In a large bowl, add mashed garlic, mashed bread, and egg yolks. Quickly beat with an eggbeater to a pale yellow smooth texture.

Slowly add olive oil drop by drop and beat thoroughly with a whisk until blended. Add in drops at the beginning, make sure to stir to complete emulsion after each addition before continuing to add. After the sauce thickens, you can increase the amount of olive oil each time.

After the first 50ml add in larger amounts

After adding all the oil, you should get a thick sauce like the following picture:

Add sweet paprika, saffron powder, Cayenne paprika and mix well. If you don't use it right away, you can put it in the refrigerator. If the texture is too thick during use, you can add an appropriate amount of warm water to adjust.

Taste it, add salt to taste.

Continue to make the soup base: After the soup base is cooked, remove the basil stems.

Beat the soup with a blender until smooth. Sieve, strain out the broth and pour the broth back into the pan.

After boiling, cover the pot and simmer slowly for 10 minutes. Taste it, add salt and black pepper to taste.

Add seafood: Add fresh orange juice, cod and sea bass, cover with a low heat and simmer for 3 to 4 minutes. Add the mussels and shrimp and cook for about 5 minutes until all the seafood is cooked through.

To serve. Add a few slices of basil leaves and a moderate amount of garlic mayonnaise and enjoy.

ENJOY!
Nutrition
Calories:
1200
kcal
|
Carbohydrates:
35
g
|
Protein:
43
g
|
Fat:
98
g
|
Saturated Fat:
15
g
|
Polyunsaturated Fat:
13
g
|
Monounsaturated Fat:
66
g
|
Cholesterol:
234
mg
|
Sodium:
1710
mg
|
Potassium:
1676
mg
|
Fiber:
5
g
|
Sugar:
11
g