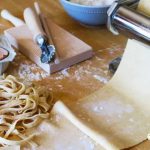 Print Recipe
Homemade fresh pasta
The difference between fresh pasta and dry pasta was previously mentioned in "Talking about Pasta". Fresh pasta and dry pasta are two completely different kinds of pasta. In terms of raw materials, the best quality dry pasta is to use 100% durum wheat flour, only add water, through machinery and pasta, squeeze out different shapes with a mould, and finally dry it. Fresh pasta will differ in raw materials and production methods. Fresh pasta is often made with eggs to make the noodles golden in colour and taste like egg. Moreover, the fresh pasta feels a kind of magic, once you cook it, you will fall in love once you eat it. Without further ado, learn together! Making pasta at home is not really complicated and difficult to imagine.
Ingredients
200

g

00 pasta flour

Extra for kneading, or 150 g all-purpose flour + 50 g semolina semolina

1

whole egg

2

egg yolk

as needed

water
Instructions
Place the flour on a board.

1) Make a well in the centre and crack the eggs into it.

2) Beat the eggs with a fork until smooth (or beat before adding to the flour).

3) Mix the eggs with the flour using a fork, incorporating a little at a time, until everything is combined.

4) Knead the pieces of dough together – with a bit of work they'll all bind together to give you one big, smooth lump of dough.

Add some water if needed to bring the dough together, one tablespooon at a time.

You can also make your dough in a food processor if you've got one. Just put everything in, mix until the flour looks like breadcrumbs, then tip the mixture on to your work surface and bring the dough together into one lump, using your hands.

5) Once you've made your dough you need to knead and work it with your hands to develop the gluten in the flour, otherwise your pasta will be flabby and soft when you cook it, instead of springy and al dente. You just have to bash the dough about a bit with your hands, squashing it into the table, reshaping it, pulling it, stretching it, squashing it again.

6) It's quite hard work but you'll know when to stop – it's when your pasta starts to feel smooth and silky instead of rough and floury.

Then all you need to do is wrap it in cling film and put it in the fridge to rest for at least 30 minutes before you use it. Make sure the cling film covers it well or it will dry out and go crusty round the edges.

Dust your work surface with some '00' flour or plain flour, take a lump of pasta dough the size of a tomato and press it out flat with your fingertips.

Set the pasta machine at its widest setting - and roll the lump of pasta dough through it. Lightly dust the pasta with flour if it sticks at all. Repeat this process five or six times turning the pasta 90 degrees and folding it over like a letter each time and feed it through the machine at the widest setting.

It might seem like you're getting nowhere, but in fact you're working the dough, and once you've folded it and fed it through the rollers a few times, you'll feel the difference. It'll be smooth as silk and this means you're making good pasta!

Now it's time to roll the dough out properly, working it through all the settings on the machine, from the widest down to around the narrowest. Lightly dust both sides of the pasta with a little flour every time you run it through.If you're making pasta like tagliatelle or lasagne you'll need to roll the pasta down to the second thinnest setting.

If you're making a stuffed pasta like ravioli or tortellini, you'll need to roll it down to the thinnest setting on the machine or to the point where you can clearly see your hand through it.

Once you've rolled your pasta the way you want it, you need to shape or cut it straight away. Pasta dries much quicker than you think, so whatever recipe you're doing, don't leave it more than a minute or two before cutting or shaping it. You can lay over a damp clean tea towel which will stop it from drying.

Boil a pot of water and season with some salt, put in the pasta to cook for 1~3 minutes. Serve with your favourite pasta sauce.
Nutrition
Calories:
228
kcal
|
Carbohydrates:
39
g
|
Protein:
8
g
|
Fat:
4
g
|
Saturated Fat:
1
g
|
Polyunsaturated Fat:
1
g
|
Monounsaturated Fat:
2
g
|
Cholesterol:
158
mg
|
Sodium:
23
mg
|
Potassium:
80
mg
|
Fiber:
1
g
|
Sugar:
0.3
g