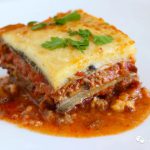 Print Recipe
Moussaka
Equipment
A casserole dish 22cm x 26cm x 6cm
Ingredients
2

tbsp

Olive oil

1

Onion

3

cloves

Garlic

500

g

Lamb mince

3 large

Aubergines

1

Potato

100

ml

Red wine

400

g

Tin of tomato

1

Cinnamon stick

1

tsp

Dried oregano

to taste

Salt & pepper

30

g

Parmesan
For white sauce:
50

g

Butter

50

g

Flour

400

ml

Milk

1

Egg yolk
Instructions
Preheat oven 180C.

Heat some olive oil (1 tablespoon) in a thick-bottomed saucepan and fry the onion until they are soft and cooked. Add garlic and stir fry for a while, add minced lamb, and fry until the minced lamb is coloured. The whole process takes about 30 minutes.

During this period, the minced meat will start to release water. After releasing water, continue to fry until the water completely evaporates and see that the bottom of the pot starts to colour, and a fond layer appears.

A fond layer appears on the bottom of the pot, as shown below:

Add wine, scrape the bottom of the pan and cook until the alcohol has completely evaporated. Add canned tomatoes, cinnamon sticks, dried oregano and season with an appropriate amount of salt and black pepper. Cook over low heat for 40 minutes.

Cut the aubergine into 5-10 mm thick slices. Place the aubergine slices on a baking sheet lined with greased paper. Use a brush to apply oil on both sides of the aubergine (I used olive oil).

Season with salt and black pepper. Bake in the oven (180C) for 20 minutes until the aubergine is soft. Pay attention to the degree of roasting at all times, don't burn it! After baking, put them on a kitchen paper and cool them down.

If using potatoes, then:

- Boil a pot of water and add an appropriate amount of salt. 

- After the potatoes are peeled, put them in boiling water and cook for 8 minutes.

- After cooling, cut into 5-10 mm thick pieces.

Start assembly:

- Start assembly in a container suitable for the oven and a suitable size and depth. 

- Order of assembly as follows:

- potato slices (if used) -> Eggplant sheet -> 1/2 sauce -> Eggplant sheet -> 1/2 sauce -> eggplant slices

That is, according to my assembly method, the final number of layers is: 1 layer of potato slices (if used) + 3 layers of eggplant slices + 2 layers of meat sauce.

After assembly, you can cover it with plastic wrap and set aside.

To make white sauce:

Turn on medium-low heat, melt butter in a deep saucepan until frothy. Add flour and stir fry for 2 minutes until the flour and butter are completely mashed and pale.

Add milk in three portions. 

Note:

1. After each addition, beat with a whisk until the batter completely absorbs the milk, and the sauce becomes smooth;

2. After each addition of milk, slowly re-boil and continue adding milk. After adding all the milk, turn to low heat and simmer for 10 minutes until the sauce thickens. 

The consistency is roughly as shown below::

Turn off the heat and beat the egg yolk. Let the sauce cool slightly, add egg yolk and mix well.

In the end you should get a smooth and thick sauce like this:

Spread the white sauce evenly on top of the assembled Moussaka.

Sprinkle with Parmesan cheese. Bake in the oven for 30 to 45 minutes until the top begins to turn light brown.

Take it out and let it cool for about 15 minutes. Refrigerate for one night and put it back in the oven to bake hot food for the next day!

ENJOY!