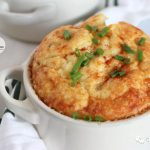 Print Recipe
Potato Souffle
An interesting twist on souffle
Equipment
2 ramekins, I use 10cm, 0.25 litre Le Creuset pots
Ingredients
250

g

Floury potatoes

2

tbsp

Chives

25

g

Cheddar cheese

25

g

Parmesan

15

g

Butter

10

g

Breadcrumbs

4-6

tbspm

Milk

2

tbsp

Greek yogurt

2

whole

Egg

¼

tsp

Cayenne pepper

3

drops

Fresh lemon juice

To taste

Salt and pepper
Instructions
Preheat oven to 180C (fan oven) / 200C (conventional oven). After the butter has softened at room temperature, use a hand / brush to evenly coat the butter in the baking bowl. Brush the inner wall from bottom to top.

If the bread crumbs are too coarse, you need to blend them to a fine sandy texture first. Put the bread crumbs into the baking cup, and rotate the baking cup so that the bread crumbs cover the entire interior evenly. Finally remove excess breadcrumbs and refrigerate for later use.

The potatoes are peeled and cooked in boiling water so that a fork can be easily inserted. Let them cool down and use a mashed potato tool to make it smooth.

Add butter, mix egg yolk and yogurt.

Add the shallots, cheese (leave aside and sprinkle on the top) and cayenne pepper powder, season with an appropriate amount of salt and black pepper and mix well.

Add a small amount of milk to adjust the consistency of the base paste. Attention, the amount of milk needs to be adjusted according to the specific situation. The final consistency should be able to fall automatically with a spoon, like the picture below::

Beat the egg whites:Start the egg whites in a clean, water-free, oil-free bowl (you can add 3 drops of fresh lemon juice or 1/4 teaspoon of tartar powder to improve the stability of the protein). Beat the egg white to a dry foaming state, that is, lift the egg beater protein to form a sharp corner, like this:

Put 1/3 of the egg white into the potato paste to loosen the texture of the potato paste. Pour the mixed paste into the remaining egg white, and gently mix it with a flip method (preferably with a rubber spatula), that is, use a spatula to gently scrape the edge of the bowl into the base paste, insert it at the bottom and turn it up. The final texture looks like this:

Pour the mixed paste into a baking cup and sprinkle cheese on top. Bake in an oven (180C fan oven / 200C traditional oven) for 25-30 minutes until it swells and the top is golden brown. Sprinkle with chines and cayenne pepper powder.
Nutrition
Calories:
369
kcal
|
Carbohydrates:
31
g
|
Protein:
19
g
|
Fat:
19
g
|
Saturated Fat:
11
g
|
Polyunsaturated Fat:
1
g
|
Monounsaturated Fat:
6
g
|
Cholesterol:
253
mg
|
Sodium:
448
mg
|
Potassium:
697
mg
|
Fiber:
2
g
|
Sugar:
6
g