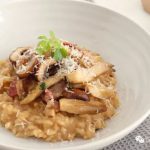 Print Recipe
Risotto ai funghi
Risotto in Italian means "seasoned rice", and Funghi means "mushroom."
Mushroom risotto will have different methods of preparation, for example, you can put fresh mushrooms directly in the risotto and cook together, or cook the risotto with dried mushroom-flavored broth as we did, and finally spread fresh mushrooms . Anyway, the ultimate goal is to make the risotto full of mushroom flavor.
Ingredients
1

Litre

Chicken stock

5

g

Dry porcini mushroom

20

g

Butter

+ 25 g

½

Medium

Onion

200

g

Carnaroli or Arborio Rice

125

ml

White wine

40

g

Parmesan cheese

100

g

Fresh mushroom

some

Parsley

80

g

Bacon
Instructions
Preparation:
If concentrated chicken stock is used, it needs to be diluted with hot water according to the packaging instructions in advance.

Peel and chop onion finely.

Parmesan cheese is grated and set aside.

Fresh mushrooms are wiped clean with a damp cloth, paper towel or soft brush (need to be washed and dried to remove moisture if necessary), then cut open and set aside.

Wash parsley and chop.

Bacon (if used) cut into small pieces.
Hot stock:
Pour the stock into the deep pot, add the dried mushrooms, bring to a boil, lower the heat and cook slowly for 15 minutes.

After the stock is cooked, remove the dried mushrooms and continue to keep warm on low heat.

The dried mushrooms are minced and set aside.
Stir-fry rice grains:
Turn on medium-low heat and add butter to a large pan with a thick bottom. Add the chopped onion after the butter melts, pour in the rice and stir-fry, but do not brown.

Add white wine and fry until the alcohol is completely evaporated.

Add the stock in portions, and start to fry the mushrooms during this period:

Add one tablespoon of stock and gently stir until the rice grains are completely absorbed by the broth, then continue to add one tablespoon of stock.

Repeat the above steps. Add chopped dried mushrooms after cooking for about 10 minutes.

Continue to repeat the adding stock steps until the rice is to your liking.

Generally, the rice grains will be cooked in about 20 minutes and still have a bite.

You can start to fry the mushrooms while the rice is cooking: add a small amount of oil to the pan, add bacon and fry until light brown, then add the mushrooms and cook. Add parsley and mix well.
Add butter and cheese:
After the rice is cooked to your liking, turn off the heat, add the cold butter and Parmesan cheese, and beat it vigorously until it blends with the sauce to form a thick and dense texture.

Cover with a lid and let sit for 1 to 2 minutes.

The texture of the final risotto should be not too thin or thick, dense, sticky, and naturally loose on the plate. It is fluid, and it is called 'all'onda' in Italian, like this:

After serving, add fried mushroom bacon and garnish with parsley.
Nutrition
Calories:
592
kcal
|
Carbohydrates:
37
g
|
Protein:
29
g
|
Fat:
31
g
|
Saturated Fat:
14
g
|
Polyunsaturated Fat:
3
g
|
Monounsaturated Fat:
11
g
|
Cholesterol:
79
mg
|
Sodium:
3248
mg
|
Potassium:
582
mg
|
Fiber:
1
g
|
Sugar:
2
g