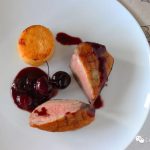 Print Recipe
Duck breast with cherry red wine sauce
Ingredients
2

Duck breast

170g each

Some

Salt & pepper
For Sauce:
100

g

Cherry

1

Shallot

2

sprigs

Thyme

150

ml

Red wine

300

ml

Chicken stock

1

tbsp

Cherry conserve

Some

salt & pepper

30

g

Butter
Instructions
Fried duck breast:

Preheat oven 180C (fan oven) / 200C (traditional oven)

Cut off the silver skin and excess fat. Absorb the surface moisture with kitchen paper.

Use a sharp knife to cut the diamond crosses diagonally on the skin, about 1 to 2 cm apart.

Season with salt and pepper on both sides.

Do not put oil in the pan,. Pu duck breast in the cold pan with the skin side down.

Put on medium heat and fry for about 6 minutes until the skin is golden and crispy. Flip and fry the sides until slightly coloured.

Put the pan into the oven and bake for 7 minutes, with the skin facing up.

About cooking time and doneness:

Adjust the cooking time according to the size of duck breast and personal preference. I personally like medium-doneness when making duck breasts at home. It is light pink when cut and the duck meat is still juicy. Generally put it in the oven (180C) for 7 to 8 minutes, which is medium maturity (when the center temperature is measured with a temperature probe, the cooking can be stopped in the range of 55C to 60C. Note that the temperature will increase a bit during the standing process).

After roasting, the duck breast is taken out of the pan and placed on another container and allowed to stand for 10 minutes to avoid cooking the duck breast with the residual temperature of the pan. Cover with tin foil to keep warm when standing.
To make sauce:
Add shallots and red wine to a small saucepan and cook over medium heat until the alcohol evaporates to 1/3. Add stock and thyme and reduce liquid on medium heat until the liquid is reduced to 1/3.

Sift and strain out the sauce.

Add jam, cherries and juice from the duck breast during the resting, mix well and simmer on medium-low heat for about 15 minutes to a suitable consistency.

Taste, add salt and black pepper to taste.

Reduce the heat, add the butter block and beat well with a whisk. This step is called Monter au Beurre, which refers to adding butter before cooking to emulsify the sauce to achieve a thickening effect.

Consistency should be like this:

After the duck breast is set aside, cut it and drizzle with the sauce, and enjoy it with your favourite side dishes. I paired it with Fondant potato.
Nutrition
Calories:
605
kcal
|
Carbohydrates:
16
g
|
Protein:
43
g
|
Fat:
31
g
|
Saturated Fat:
13
g
|
Polyunsaturated Fat:
3
g
|
Monounsaturated Fat:
12
g
|
Cholesterol:
263
mg
|
Sodium:
635
mg
|
Potassium:
175
mg
|
Fiber:
1
g
|
Sugar:
9
g