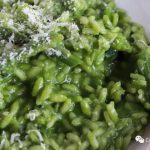 Print Recipe
Spinach Risotto
Choose the right rice for the perfect risotto
Ingredients
200

g

Carnaroli rice

45

g

Butter

1

Shallot

150

ml

White wine

750

ml

Chicken stock

40

g

Parmesan

100

g

Spinach

60

g

Pea

80

g

Asparagus
Instructions
Wash the green beans, asparagus and spinach leaves. Cut the asparagus into small pieces for later use.

Boil a pot of water and season with salt. Add green beans and asparagus and cook until tender.

Blanch the spinach for about 30 seconds.

Put the spinach and half of the green beans (the remaining green beans are set aside for use) into the blender, add a small amount of water to make a dense and delicate juice.

At this point you should get a dark green spinach and green bean juice like the picture below.

Follow these basic steps to cook risotto:

1. Heat stock and keep warm.

After the stock is boiled, heat to low heat and reserve. The hot stock is used to keep the pot warm, so that the rice grains can better absorb the broth and release starch.

2. Toast rice grains.

On a medium heat, add butter to a large heavy bottomed pan. Melt the butter. Add the shallots and stir fry until soft. Add rice grains and stir-fry so that the rice grains evenly cover the butter and give off a light nut aroma. Be careful not to burn.

3. Add white wine and fry until the alcohol has completely evaporated.

4. Start adding the stock in portions.

Add 1 ladel of stock at a time and stir with a wooden spoon until the stock is completely absorbed by the rice grains. After the stock is completely absorbed by the rice, add another ladel.

Repeat step above and cook for about half the time (it takes about 20-25 minutes to fully cook the rice grains, so here it is about 10 minutes) and add all the spinach juice at once.

Continue to stir slowly until the spinach juice is absorbed by the rice to a certain extent, and then repeat the stock step until the rice grains are cooked to your favourite taste. Like cooking pasta, Italians like the taste of al dente, that is, the bite will not be too soft and sticky.

After the rice is cooked, add the asparagus and green beans cooked before and mix well.

Turn off the heat, add ice-cold butter and Parmesan cheese and beat vigorously. This step is called Mantecatura in Italian, which refers to adding fat in the final stage of cooking to create a more silky texture and richer flavor.

By the way, butter also helps to increase the brightness of risotto.

Taste it and season with salt when needed. Cover the pot and let stand for about 1 minute before serving. After serving, grind some Parmesan cheese and enjoy.
Nutrition
Calories:
501
kcal
|
Carbohydrates:
42
g
|
Protein:
16
g
|
Fat:
25
g
|
Saturated Fat:
15
g
|
Polyunsaturated Fat:
1
g
|
Monounsaturated Fat:
7
g
|
Cholesterol:
62
mg
|
Sodium:
2084
mg
|
Potassium:
616
mg
|
Fiber:
4
g
|
Sugar:
4
g