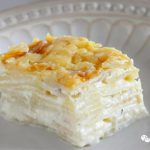 Print Recipe
Potato dauphinoise
A classic luxurious side dish
Ingredients
1

Kg

Potato

1

clove

Garlic

350

ml

Double cream

350

ml

Milk

¼

tsp

Nutmeg

To taste

Salt and pepper

50

g

Cheddar cheese or Gruyere cheese
Instructions
Peel garlic.

Grate cheese.

Potatoes are peeled and soaked in water.

Preheat oven to 150 C (fan oven) / 170 C (conventional oven).

Cut potatoes into thick and thin slices that are about as thick as coins. A mandolin or a food processor with a slicing function is best. It can be very difficult to cut it by hand with a knife.

I cut it with a Kenwood multifunctional food processor. Look at the picture below, do you feel that I "cut" well?

To prevent discoloration, the cut potato chips are also soaked in water for use.

Make the sauce:

Add milk, cream, garlic, and nutmeg powder to the pot. Slowly cook over medium-low heat until the surrounding area is bubbling to turn off the heat.

Season with salt and pepper.

Brush the container evenly with a layer of butter. Drain the potato chips and absorb excess water with kitchen paper.

Layer the potato in the container. If you are using a round container, you can choose to fan out. Note:

— Potato chips should overlap slightly, leaving as few gaps as possible.

— Season each layer with salt and pepper. Be careful not to be too heavy, and avoid the product being too salty.

Pour in the milk cream mix, just to the top but not soaking the potatoes completely. Like this:

Bake in the oven for 1 hour. After half the time (i.e. 30 minutes) sprinkle the cheese on top. Although the most traditional version is without cheese, this layer of cheese will make the flavour more rich and luxurious!

You can test for doneness with a toothpick. If the toothpick can be easily inserted into the bottom, it is cooked.

If you want to cut out regular shapes easily, it is recommended to leave it in the refrigerator for several hours to set it, and then reheat it when you enjoy it.

ENJOY!
Nutrition
Calories:
499
kcal
|
Carbohydrates:
37
g
|
Protein:
8
g
|
Fat:
36
g
|
Saturated Fat:
20
g
|
Polyunsaturated Fat:
1
g
|
Monounsaturated Fat:
3
g
|
Cholesterol:
14
mg
|
Sodium:
475
mg
|
Potassium:
626
mg
|
Fiber:
3
g
|
Sugar:
6
g