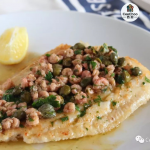 Print Recipe
Sole with brown shrimp butter
A classic French dish with fresh sole and brown shrimps
Ingredients
2

Sole

150

g

Butter

100

g

Shelled Brown Shrimp

1

Lemon

20

g

Capers

Dusting

All purpose flour

15

g

Parsley

to taste

Salt and pepper
Instructions
After the sole has been skinned, the surface water is blotted with kitchen paper according to our instructions.

Sprinkle with salt and white pepper on both sides.

Make clarified butter: On low heat, slowly melt butter in a small saucepan. When the butter melts, it will start to foam, white milk foam will appear on the top, and a white solid will appear on the bottom. Turn off the heat and let cool a little, skim the white foam layer on the surface, and pour the clear golden yellow oil (not white sediment on the bottom of the pot) is the clear butter we want. If you want to make sure 100% of the pure oil is filtered out, you can also use gauze.

Fried Sole: Dust flour on both sides of the fish, and pat the fish gently with your hands to remove excess powder. Lightweight powder coating is very important.

On medium heat, put 3 tablespoons of clarified butter in the pan, heat the oil and add the Sole. During the frying process, you will hear obvious noise but do not burn the flour. Therefore, you must modify the heat. If it is too mild, increase it slightly, and if it is too strong, lower it. Fry for about 3 to 4 minutes on each side and it should just be cooked. During this period, you can use your hand to press the fish at the center of the bone to determine the doneness. If the fish starts to fall off the fish bones, its probably overcooked. You can also use a temperature probe to insert the middle bone of the fish on both sides, and the fish will be cooked at about 60 degrees Celsius.

After frying, serve immediately or wrap with tin foil and put it in the oven to keep warm (the oven is adjusted to the lowest temperature).

To make the sauce: on a medium-low heat, add butter to the pot. After the butter has melted and foamed, continue to maintain the medium and low heat, and the bottom sediment will slowly change from white to light brown. Keep observing the colour of the butter, and cook until the butter is light brown and emits a strong nut and hazelnut flavor. Add brown shrimp to the butter and fry for 1 to 2 minutes.

Add parsley and capers and stir fry to serve.

Drizzle the sauce and sprinkle it with fresh parsley.

ENJOY!
Nutrition
Calories:
819
kcal
|
Carbohydrates:
7
g
|
Protein:
53
g
|
Fat:
65
g
|
Saturated Fat:
39
g
|
Polyunsaturated Fat:
3
g
|
Monounsaturated Fat:
16
g
|
Cholesterol:
360
mg
|
Sodium:
1201
mg
|
Potassium:
900
mg
|
Fiber:
1
g
|
Sugar:
1
g